SBL CLEARSTONE
SBL Clearstone is a well-known medicine for problems associated with stones of the urinary tract as well as for all the stone associated complaints.
It is very useful for dissolving stones present in your kidneys, ureter or bladder and thus assisting in their easy expulsion from the body.
Composition of SBL Clearstone:
The medicines which constitute our medicine SBL Clearstone have been known in the homoeopathic system of medicine for long for the treatment of renal stones and their associated complaints as the most effective medicines. Medicines used in this formulation are mentioned below:
Indications for usage:
SBL Clearstone Drops are indicated for kidney related problems especially for
Kidney stones (Renal Calculi)

Stones in ureter

Calculi in the urinary bladder.

Pain associated with renal calculi.

Urinary troubles like pain while passing urine or after urination.

Burning sensation while urination, etc.
Dosage:
10-15 drops of medicine should be taken three times in a day in half a cup of water.

You need to make sure that you don't eat or drink anything 15 minutes before and after taking the medicine.

Though this medicine is known to be totally safe and does not cause any side effects, it is always better to consult your homoeopathic doctor before taking any homoeopathic medicines to avoid any complications.
Other useful management tips for kidney stones:
Drink plenty of water, stay hydrated always to help in easy expulsion of stones.

Avoid vegetables like brinjal, tomatoes, ladyfinger, spinach, fruits like guava, etc. should be avoided in cases of stones.

Daily exercise for at least half an hour is important, but avoid heavy vigorous exercises.
Note: In case your symptoms persist even after taking this medicine, you are advised to visit your nearest homoeopathic doctor to get proper consultation and medicine as per your constitution.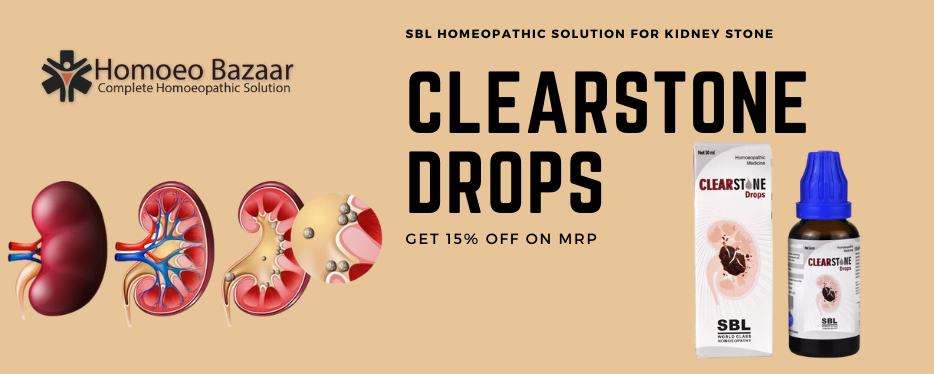 Manufacturer
Manufacturer
SBL
Quantity
Amount
30ml
Key Ingridients
Compostion
Berberis vulgaris QSarsaparilla QOcimum canum QSolidago virgaurea QPareira brava QSenecio aureus Q
Latest Price
Price
Rs.103.00
Used For
Uses
SBL Clearstone Drop is a well-known product of SBL and is used to dissolve kidney stones, ureter stones, or bladder stones. It is also used to provide relief from renal colic (pain).
Side Effects
Side Effects
No side effects of SBL Clearstone Drops have been reported in the medical literature.
Benifits
Benifits
Provides relief and dissolves renal (Kidney), ureter and bladder stonesHelps to reduce pain due to stonesHelps to relieve renal blockageRelives from the burning sensations